Too deep last week ... must be shallow & silly this week ...
Courtesy of
Scott Adams
:
I heard
Dr. Laura
read this next one on-air this week, & I found several variations of it online so I can't resist personalizing it here (for everyone who knows my penchant for finding typos & correcting others; also for those familiar with the classic line for engineers like me,
"I is an engineer."
):
Teacher:
George, let me hear you make up a sentence starting with "I".
George:
I is the...
Teacher:
No, no, no! George, correct English sentences begin with "I am", not "I is".
George:
OK, if you say so. I am the 9th letter of the alphabet.
I
printed & bound a full-size copy of my paperback excursus Thursday night, so I'm extremely busy & will have to refer readers who want more royal content this week to
an excellent article published at Christianity Today by Mark Galli, "King Jesus the Disguised".
After a quick read-through Friday afternoon, I wished it were something I had written (except of course for the grammatical typo,
"a king is political figure"
)!
Song of the week...
Yikes!
Just when I thought this was going to be a slam-dunk quickie fun blog...
I was so happy this week, not just for producing the first copy of my new book, but for getting to see a prayer answered for a friend who had died last week--for only a few moments--he was resuscitated but remained unconscious for a couple of days in intensive care. He was still not allowed visitors on Wednesday, but I decided to go Thursday & found he had not only regained consciousness but had been removed from intensive care & was standing up all smiles to greet me when I walked into his room!
Anyway, my first choice for the song this week was a stirring rendition of the traditional Hanukkah tune,
"Sivivon" (click here for a longer-than-usual 58-second sample; 721kb)
as performed by my friend & former Redondo Beach citizen,
Laurie Z
. But it's more deep & moving than the light-hearted tone of this blog entry. I searched for something else & considered several others, but none of them worked. I felt compelled to stick with Laurie's.
Unfortunately, the CD this particular track comes from is not listed on Amazon, so I had to go to her home page for an alternative distributor link. Those of you who don't like sad news will not want to read
this (especially the part about her father, father-in-law, & husband)
.
I've been a big fan of Laurie's music since first hearing her back around 1991 on an Orange County radio station. She not only played keyboards as a solo artist, but she performed regularly with a live band at Disneyland, & she led hockey fans into rallies as the house organist for The Mighty Ducks of Anaheim. You can read
her extensive biography online for more details
.
Her first concert I attended was August 14th, 1994 at Veteran's Park in Redondo Beach where Torrance Blvd. hits the ocean; I still have the promo poster I stole from a local music store (no longer in business) right by my apartment door--it's the first thing I see when I get home from work each day. For the next few years, I attended almost all of her public South Bay shows--I don't know exactly how many at the moment--at least 11 including gigs in El Segundo, Hermosa, Torrance (when she composed 2 songs impromptu later published on "Roots"), & shopping mall promo performances for "Heart" in late 2001, plus a private release party in Santa Monica for "Roots". When she opened for Leo Kottke at The Strand (a.k.a. Club Caprice), I left after her performance because I didn't want to hear from anyone else to spoil what my ears had experienced.
She not only took time to chat with me at some point before/after each show, but always gave me hugs. For someone as physically beautiful as her, it always surprised me & overwhelmed me.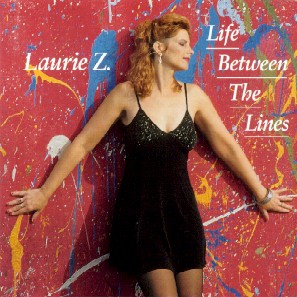 Most ladies like that are, well, not like that. But that's the way she was. I used to love watching her interact with little kids who were dancing at her concerts--she loved them so much. My memory of her is a ray of sunshine in an often-dark Jungle-In-Here land.
She wrote many personal E-mails to me (29--but who's counting). I didn't write to her much after she moved to the state of Washington because I thought that she was trying to start a new life there, & I'm not the prying type. Here is the final E-mail she sent to me almost 4 years ago to the day (12/24/2002):
"Just wanted to drop you a note and wish you the best for the holidays, George!
From your friend newly up north (Washington)-
Laurie Z."
That's about as close to someone talking to me from the other side as can be. I have no doubt that she is indeed
"newly up"
in a spiritual "north" this very moment. Here's a snippet of the closing from the first E-mail I wrote to her in September of 1996 (a year before I had ever heard of LMLK handles; more than 5 years before I'd begin studying them):
"If I were a king, I'd want you to be my personal musician!"
Her response:
"Thank you so much for your letter - it made me feel great. Please share my music with your friends!"

Laurie Z.

(and if you were a king, it would be my honor...)"
Tonight, I have honored her request.
G.M. Grena